Of course these caught my eye in the latest episode of Dollhouse:
Sierra's Shoes From the Back
Active "Sierra" wore these babies while infiltrating the NSA's offices last Friday. Yes, they totally fit that "
Aggressive Black Shoe
" trend I've been watching. Notice the zipper detail in the back. This is particularly what caught my eye. What an awesome, sexy little touch on an already sexy shoe. One could consider it to be a bit much but I think it's pretty chic. I had to find a pair of something similar. My first thought was something by Pour La Victoire, but that wasn't right. So I googled "zip up pumps".
Look what I found...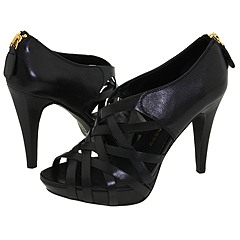 Chinese Laundry "Love Me" Shoes on Zappos
Now they aren't an exact match - the zipper on Sierra's shoes looked silver. And of course there's the difference in the color of the heel (Sierra's appears to be tan). But at only $86.20, I'm happy with the cost compared to what it could be. Usually when I try to track something down it doesn't end up being a reasonable price. Yes, "reasonable" is a relative term.
Anyway, the news gets better. Zappos decided to upgrade my shipping at no extra cost to me so they shipped out today. I'm sure they do this to quite a few people (if not everyone) but since I don't order shoes very often it's a treat. Yes, I really don't buy shoes often. The last two months have been an anomaly, I swear!
Chinese Laundry "Love Me" on my feet!
I had to contort myself into some strange positions to get pictures of these babies. For those of you wanting to know, they stand at around 4 inches tall but they don't feel that high foot-wise because of the platform. They do feel a little snug when trying to zip up the heel, but that's as it should be I think. I have a habit of sliding around in really high shoes after a while.
I probably won't wear these around at work for a while - they are special and I want to learn how to walk in them first. I seem to do better on thin carpet than the hardwood of my house too.
If you like the Zip Up detail but don't like the "Love Me" style, there are several other styles on Zappos for Chinese Laundry that also have that detail. I am sure you can find it on other brands as well.
By the way, if you're not watching Dollhouse you're missing out on some fun stuff - particularly in the clothing department.