Image from
Soda Head
Wow! I love those boots. Don't you? For practicality purposes, I would choose much lower (and thicker heel) but I do love the knee high lace up boots though I choose to wear them with skirts, dresses or jeans. I've been looking for my next pair for over two years. If you happen to find some nice ones, let me know, ok?
On to Ms. Page here...
The Girl With the Perfect Figure... My mother totally has no idea who Bettie Page is, which I suppose shouldn't surprise me. After all, it says right on the
Bettie Page Website
that although Playboy considers her the Queen of All Pinups people still don't know her. I think Bettie is totally fun and you should check out the website.
Also there's a lot of Bettie Page art by Olivia around that's fun too. I recently purchased a book for my husband so he'd have all of the Olivia pictures. This one is my favorite: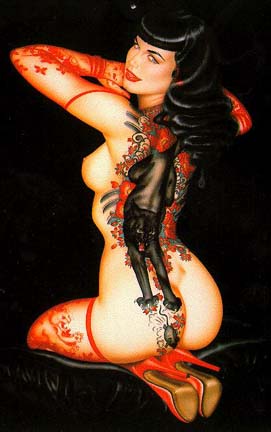 My husband has this idea that he wants to have a room full of pinup art. If it's all of Bettie, I don't mind. She may have some racy photos but I still think she's pretty classy compared to modern pinup girls.