When I was watching Gossip Girl last week and saw Blair's prom dress I knew I had seen it before.
Image from Gossip Girl Report
Believe me - this doesn't happen too often to me. Most of the time I'm hunting down something I thought was cool. This time I absolutely
knew
I had seen it. I just wasn't sure where I had seen it. I began looking through some pictures on my computer and found this inside a folder of awesome dresses I had set aside for paintings/drawings:
I had no meta data attached to the photo telling me anything, nor could I remember where I snagged it from. At the time I never intended to do anything with it but hang onto it for painting. All I knew was that the image was labeled "10m".
Turns out, you wait a few days and everyone on the internet who has the slightest bit of interest is noting what the people on Gossip Girl wore. It ends up the "m" in 10m must stand for "
Marchesa
" because it's a
Marchesa dress from 2008
. AH ha! Proof it's ok to wear something past season! So of course I looked up Marchesa (yay Googgle).
This dress gets around: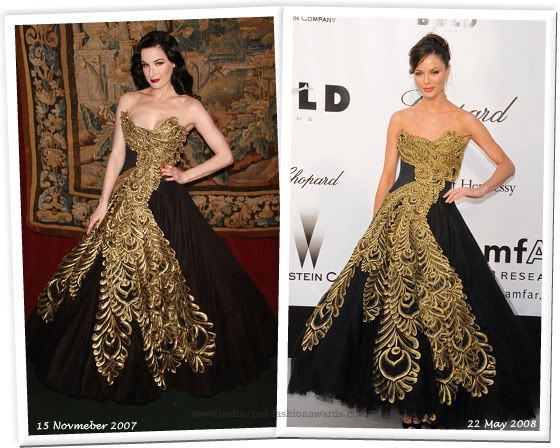 Dita Von Tease and Georgina Chapman
Image from Red Carpet Fashion Awards
Marchesa is a designer label that began in 2004. The roots go way back to way back to
Marchesa Luisa Casati
, an aristocrat in the 19th century. She was apparently a bit o a nut, seating manequins at her dinner table and wearing snakes as jewelry. Ok, that last part is sort of sexy. You remember Salma Hayak in From Dusk 'Till Dawn, right?
Anyway, The line itself is known for it's intricate dresses, like the one featured on Gossip Girl. Primary designer is Georgina Chapman. I guess she and her brother own the brand. Marchesa apparently also has a more casual line called Marchesa Notte. Check out
New York Magazine's Fashion
site for more information including contact info and where to buy. I love it when I see phone numbers!