When I did my write up for the
Zoya Wicked collection
I surmised that the names of the polishes were inspired by the Professional Dancers on Dancing With the Stars (with the exception of judge Carrie Anne, who could also be considered a professional dancer). I would like to suggest that maybe the "Wonderful" collection is also named after the "Stars" on Dancing With the Stars. So stay with me here... I might needs some help as I have not seen all of the seasons. So please correct me if I'm wrong.
Overall
I think this collection just doubled the amount of cream polishes I have in my collection. I am usually a sparkly girl, but I've discovered the value of having gorgeous cream polishes at your disposal. There are some gems in here... but I did not like it as well as the Wicked collection. That's just personal preference. What I will give Zoya absolute credit for is doing something interesting with the two collections: for every sparkly Wicked, there is a similar (not the same shade) color in a cream in the Wonderful. Do you realize what a treat that is? Essentially, not only can you choose your shade, but you can choose your finish too. Love!
Application
Two coats on all of these over Qtica Nail Growth Stimulator and topped with Seche Vite. No major issues, though I think I did have a little bit of Seche Vite shrinkage.
Finish
As I've already mentioned, these are all creams. Some of them area a little more translucent, almost jelly like at the first coat, but with two are opaque.
Colors
Like I said, please help me out with the lovely ladies here...
Kelly
Could be named after two people...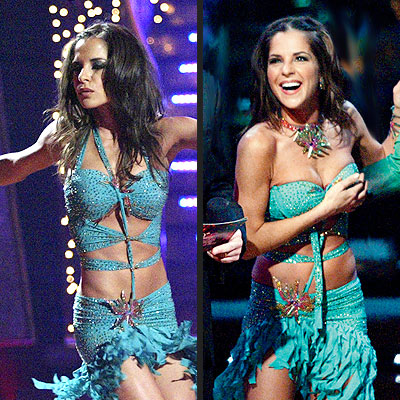 Kelly Monaco - Winner, Season 1
Image from People.com
Kelly Osborn - Season 9, 3rd place
Image from Whyfame


I choose to think that this polish was named after Kelly Osborn. After all, Zoya Kelly is a truly undefinable color, yet utterly gorgeous and quirky. It is gray, with purple, periwinkle undertones. Absolutely one of the most anticipated colors of this collection, and one of my favorites as well. I must admit I find it a little ironic that "Kelly" isn't a green.
Stacy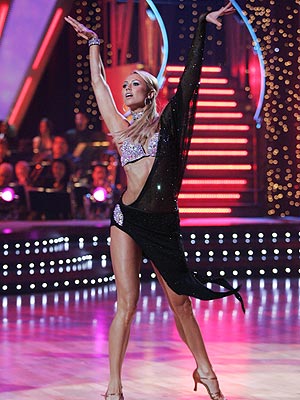 Stacy Keibler, Season 2 3rd Place
Image from People.com
Stacy was one of the creams in this collection that seemed to have the translucency of a jelly when lightly swatched. It gives this color more depth than some of the other Wonderful polish. The color itself is a deep berry red. Personally, I think it's totally sexy.
Burke
Burke is another berry cream, but not nearly as deep and dark as Stacy. I like this shade, but I think it is a bit redundant here. Like the Wicked collection, Wonderful is also composed with one too many reds for my taste. However in Wicked I couldn't decide which one I would get rid of. Burke is beautiful, but she's the one I'd toss from this collection.
Kristi
Kristi Yamaguchi, Season 6, Winner
Image from TVGuide.com
Kristi! Oh Kristi! I am so SMITTEN with you! This is a true candy red cream. It probably is dupable (it has that look about it) but I don't have a red like this. Mostly I don't have a red like this because I don't have a lot of creams. It reminds me so very much of the color of the lips on the model for the Zoya Smitten Summer 07 collection. That was a promo poster I will never forget because it was just so cute! I always wanted a red cream that brought to mind that picture and sadly I was dissapointed that the Smitten colors were all metallic. Very unlike me, I know. But this color is the candy apple red that I wanted back then. Zoya, thank you so much for bringing it to me now!
Cola
Remember when I said I had a hard time finding matches for some of these lovely ladies? Well Cola is one of them.
Now "Cola" could have been named for...
Nicole Scherzinger, Season 10 Winner
Image from WhyFame.com
Nickname or "Nicole?" Which doesn't make a lot of sense except that Zoya already has a Nicole.
Or product placement...
Coca Cola Sponsoring Nascar with Shawn Johnson, Season 8 Winner
Image from PureDWTS.com
In light of the fact that there is also a "Shawn" in this collection I'm going to assume the latter is incorrect.
Cola, regardless of who or what it's named for, is the brown-red cream analogous to Wicked's Cheryl in this collection. I was a little surprised at how much I actually did like this color. I don't ususally like browns that straddle that line between brown and red. But this might be a good choice for those of you looking for colors that aren't red but still want to stick fairly close to traditional.
Shawn
Shawn Johnson, Season 8 Winner
Image from Zap2it.com
Shawn was the other hotly anticipated color of this collection. Middle tone Green cream. There are lots of people out there who go nuts over greens and I'm not one of them. Zoya has pulled some amazing greens lately (Edyta, Irene...) but I really am just "meh" about this color (as you could probably tell by my crappy application in my pictures here). I'd take any of the other colors in this collection over Shawn. Especially when comparing it to the gorgeous Wicked Edyta, I just can't like it. Could I ever warm up to Shawn like everyone else? Hmmm. No. But if green's your thing, then go for it. It's a perfectly fine polish.
Bottom Line
My favorite picks from this collection are Kelly, Kristi and then a toss up between Stacy and Cola. I don't love any of these colors the way Edyta and Kym grabbed me in Wicked (sorry Zoya), but it is a nice collection. But then again, it takes me a while to warm up to creams. Maybe some of these colors will become favorites with time.
Odd that my favorite Zoya is a cream (Casey).
Repeated Plea To Zoya
Can you please now do a True Blood collection? Sookie, Lafayette, Pam, Jessica, Tara, and Arlene are all cool names!
Zoya nail polishes retail for $7 each or you can purchase the entire Wonderful collection for $36 at
The Art of Beauty website
.
Full Disclosure
The products in this review were furnished to me by Zoya not only for my use but for review. Other than the products mentioned above I will not be compensated in any other way by Zoya and will provided my honest opinion of the product. I don't sell Zoya products, nor am I affiliated with Zoya/Art of Beauty in any way.