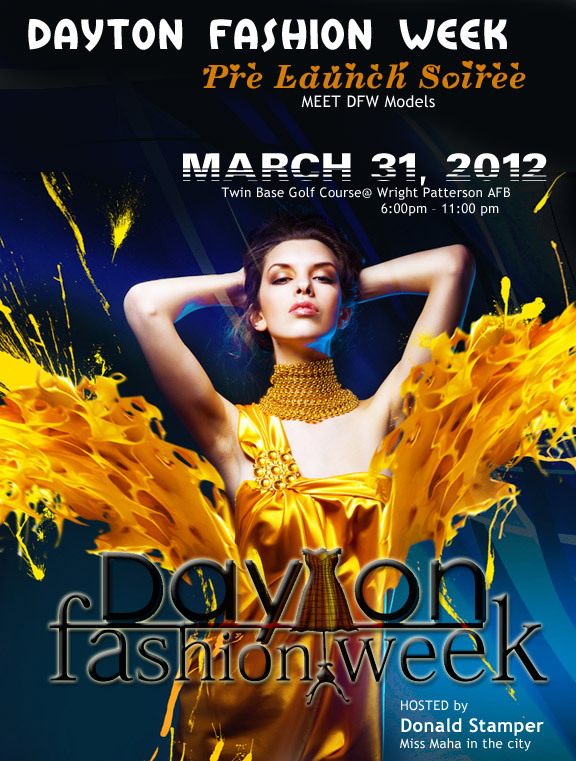 Finally at long last I'm getting info on Dayton Fashion Week, proper! So Here I am bringing it to you with you starting with their Pre-Launch Soiree. This Kickoff is sure go be rockin'! Here are the details from Caressa Brown, who is working on organizing Dayton Fashion week.
Dayton Fashion Week Pre-Launch Soiree
March 31, 2012 at Twin Base Golf Club
6 pm - 11 pm
Hosted by:
Donald Stamper and Maha Kashani of Miss Maha and The City.
DJ:
Adam Spangler
Live Performance:
Miss Purity (spoken word artist) and Erin Manderchied (singer)
At the event, the lovely models that Dayton Fashion Week has assembled will be revealed. Light hors d'oeuvres and door prizes will be given out. In addition there WILL be a prize for "Best Dressed".
No, I have no idea what "best dressed" means in this case so I will leave that for you to decide.
Purchase Your Tickets Online, or at the door of the event.
For those of you keeping track, this is also the same day as the
PUSH Prom 'n' Aid
. If your interested in supporting PUSH but want to attend this event, I'd still suggest purchasing a PUSH ticket just to support the cause. Or if you can, try to attend both! Both events are definitely long enough to put in an appearance at each.